Valmetal
---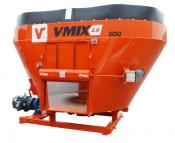 Stationary Vertical Mixer
MODEL(S):
V-MIX 400, V-MIX 575, V-MIX 700, V-MIX 900HD
Includes hydraulic door, manual door, door with electric motor, rubber extension, conveyor on right/left side, discharge conveyor on both sides.
V-MX 2.0 Mobile Mixers
MODEL(S):
V-MIX 400, V-MIX 575, V-MIX 700, V-MIX 900HD
Mixes a wide variety of feed including large round bales, square, baleage or dry. Versatile enough to handle any kind of recipe and was designed to accommodate any future requirements.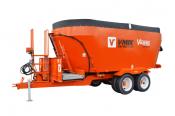 Fatmix Series
MODEL(S):
V-MIX FATMIX 485, V-MIX FATMIX 930, V-MIX FATMIX 1130
Unit can cut and mix a wide variety of products including large round hay bales, square, coated or dry. Its low profile designed with vertical walls and a larger floor than the V-Mix series offers to easily mix and chop several big bales of hay at the same time to prepare a quality TMR.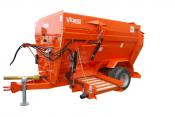 Mobile Four-Auger Mixer
MODEL(S):
MW210, MW270, MW325, MW375, MW450
On the mobile TMR mixer, the discharge system features a fold-up conveyor and an hydraulically powered door to regulate the flow of feed from the tractor seat. Capacity ranges from 210 to 450 sq. ft.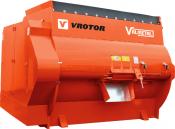 VRotor Reel Mixer
MODEL(S):
6100, 6120, 8100
An efficient mixing system capable of providing the most thorough TMR available without destroying structural fiber in the diet. A sturdy machine, wear resistant and capable of cutting and mixing long stem hay without destroying the overall structure of the feed.
---