Valmetal - Jamesway
---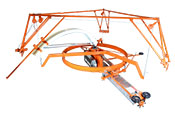 Valmetal Nordic 215 Silo Unloaders
Three 5/16" galvanized aircraft type cables support the unloader from 3 widely spaced points which result in a level cut from top to bottom.
The drive ring's large diameter along with wall to wall suspension arms guarantee the perfect equilibrium of the machine without counter weight that has to be adjusted every now and then to match silage conditions. Made of 3/16" thick steel, the 3 ring segments feature a big 9' diameter on the 12' to 20' models. They are reversible giving them twice the durability. Double 48" long splice plates provide rigidity to the whole assembly. On the 24' models, ring segments are beefed-up and make a large 11' diameter ring for a stable and well-balanced machine.
The massive 10" heavy-duty auger made of 1/4" thick flighting welded on a 4" O.D. tube for rigidity. It is double flighted at the chipper wheel and to allow the machine to run smoothly in frozen and hard-packed silage. Sharp hardened knives can be installed on auger to chop up to toughest material. Coupled to the gearbox by a 3-bolt flange coupling, the auger assembly is easy to remove.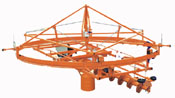 Valmetal 2000 Ring Drive Distributor/Unloaders
Collector ring totally enclosed
Electrical power is transferred from stationary to rotating part of the machine by extra-large brushes and thick copper alloy rings
Large taper roller bearings inside the housing support the machine
Heavy triangular suspension arms to avoid bridging
Spring-loaded guide wheels to accomodate uneven silo walls
Weight is evenly distributed on two large carriage wheels
Six replaceable hardened steel blades keep the silo walls free of frozen materials
The auger support features a solid oilite ball bearing, self lubricated, it resists moisture and contaminants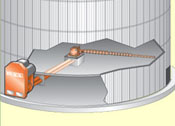 Valmetal Grain-O-Matic - Borrom Grain Unloader
The tapered sweep auger drops feed into the "positive flow" hopper at the center, where spinning paddles cycle the material into the exit auger
Grain does not just feed down through a center "cheminey" when you feed out as with some high-moisture grain unloader
Grain is less likely to harden near the structure floor
13 H.P. electric motor
Belt drive 50 and 140 rpm
Quick action motor mount release
10 gauge steel hopper
Tapered sweep auger shaft and flighting, 3" increasing to 5"
Quick action low clearance discharge hatch
Drive mechanism ratchet type overload protection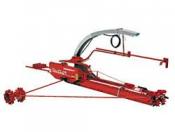 Magnum II Silo Unloader
Models available for 12' - 30' diameter silos. 1/4" thick "Saber Edge" augers with 16 degree forward pitch offer superior performance and unmatched durability. Reliable torque arm assembly. Easy-to-adjust balance weights. Durable 10" wall wheels feature durable polypropylene construction. Massive blowing power from the Super-Duty impeller.
Pow'r Ring Silo Unloader
Direct coupling drive. Large 7'4" drive ring. Exclusive twin "Saber Edge" augers. Adapts to your existing tripod or hexapod suspension. Models available for 14'-24' diameter silos. Free floating drive system with direct coupling positive ring and gear tooth engagement design. Center position guide wheel provides balanced, positive ring drive performance and stability. Large 7'4" diameter channel drive ring made of 7-1/8" x 3/16" thick steel with 2" drive lip for outstanding ring drive leverage.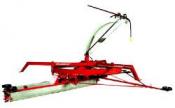 Volumaxx Silo Unloader
Models available for 12' - 24' diameter silos. New 10" high performance roughage auger features 16º forward pitch flighting. New high-volume impeller features stainless steel band and reversible stainless steel paddles. Self-adjusting cantilevered "walking pressure wheel". Independent power ring models feature high-efficiency drive.
---