Valmetal - Jamesway
---
Electric Supercart VA
MODEL(S):
e.32, e.42, e.60
The electric model was designed from the traditional model. Working with batteries, as good as the model engine, it delivers the RTM with an right unloading auger without any pollution.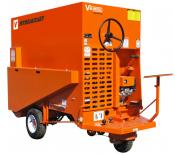 Hydraucart
MODEL(S):
532, 544
Ergonomic arrangement of the control levers and pedals, the Hydraucart will make your dairy feeding operation more pleasant and efficient. Strategically set close to the center of the bin, they allow very short axis turning in narrow aisles.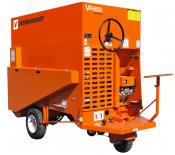 Supercart
MODEL(S):
525, 530, 542, 960, 975
Features a cross conveyor driven by a sturdy reversible gearbox that allows to unload on either side of the cart for more flexibility. Foot operated all the components are underneath the cart to eliminate damage from curbs and doorways. Capacity ranges from 32 to 96 cu. ft.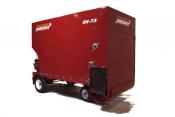 Super-Hydraulic Series Feed Carts
MODEL(S):
SH-33, SH-43, SH-53, SH-73, SH-93
The powerful hydraulic direct-drive system handles big loads, yet the simple design virtually eliminates maintenance. The simple auger discharge unloads to the right. The all-bolted auger trough makes service or repair fast and easy. The unique steering system features a chain and sprocket actuator for positive engagement.
---