Schaefer
---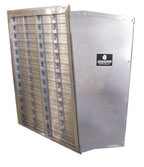 Schaefer Galvanized Exhaust Fans
AVAILABLE SIZES: 24" to 48"
FEATURES:
14 to 18 gauge galvanized materials.
Heavy-duty, totally enclosed, maintenance free, and energy efficient motors.
3 or 6 wing galvanized blades.
Greasable cast iron pillow block bearings.
Automatic belt tensioners.
Aluminum shutters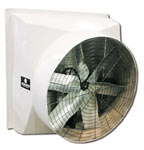 Schaefer Fiberglass Exhaust Fans
AVAILABLE SIZES: 36" to 52"
FEATURES:
Special scallop-design, static balanced, galvanized fan blade ensures quiet operation with high performance.
Industrial type, cast iron greasable bearings.
Energy-efficient motor, totally enclosed air-over with automatic thermal protection.
Rugged fiberglass slant wall housing with an extended warranty.
Automatic, self-adjusting belt-tightener.
Heavy-duty aluminum shutter.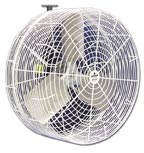 Schaefer Barn Kooler Fans
AVAILABLE SIZES: 8" to 36"
FEATURES:
Direct-drive, totally enclosed heavy-duty, motor.
Thermally protected, pre-lubricated ball bearings.
Motor is maintenance-free.
Patented safe, non-restrictive fan guards.
Aluminum fan blade
Powder coated steel fan mount
Variable speed capable

Schaefer Direct Drive Flush-Mount Exhaust Barn Fans
AVAILABLE SIZES: 9" to 24"
FEATURES:
Heavy-duty Motor: Totally enclosed, thermally protected, pre-lubricated ball bearings.
Maintenance free
Fan blades: Energy efficient polypropylene construction.
Rust and corrosion resistant.
Unique design allows for efficient operation and perfect balance.
Fan Housing: Heavy molded polyethylene construction.
Won't rust or corrode – never needs painting.
Easy-clean design.
Extended warranty on fan housing.
Fan Guards: All fans have a heavy gauge, welded wire front guard which is polyester coated for corrosion resistance.
Shutters: All-weather PVC shutters constructed of white poly materials and assembled with nylon bearings.
Aero-dynamically efficient. Variable speed capable.
---